The writing process is a labor of love for those who create content, but it can also be incredibly frustrating at times.
It's easy to get stuck in your own head, or even worse, to procrastinate.
Thankfully, there are many ways to streamline this process in the 2020s—complete with free AI writing software now to choose from! 🤖
But with so many options, it's easy to get overwhelmed or try to rely on a bloated stack of technology that you'll simply never use.
Don't waste your time trying to shuffle through all the different options out there. We've gone ahead and broken down the essential tools you'll need to start creating the best AI content possible.
But first, do you really need AI writing software?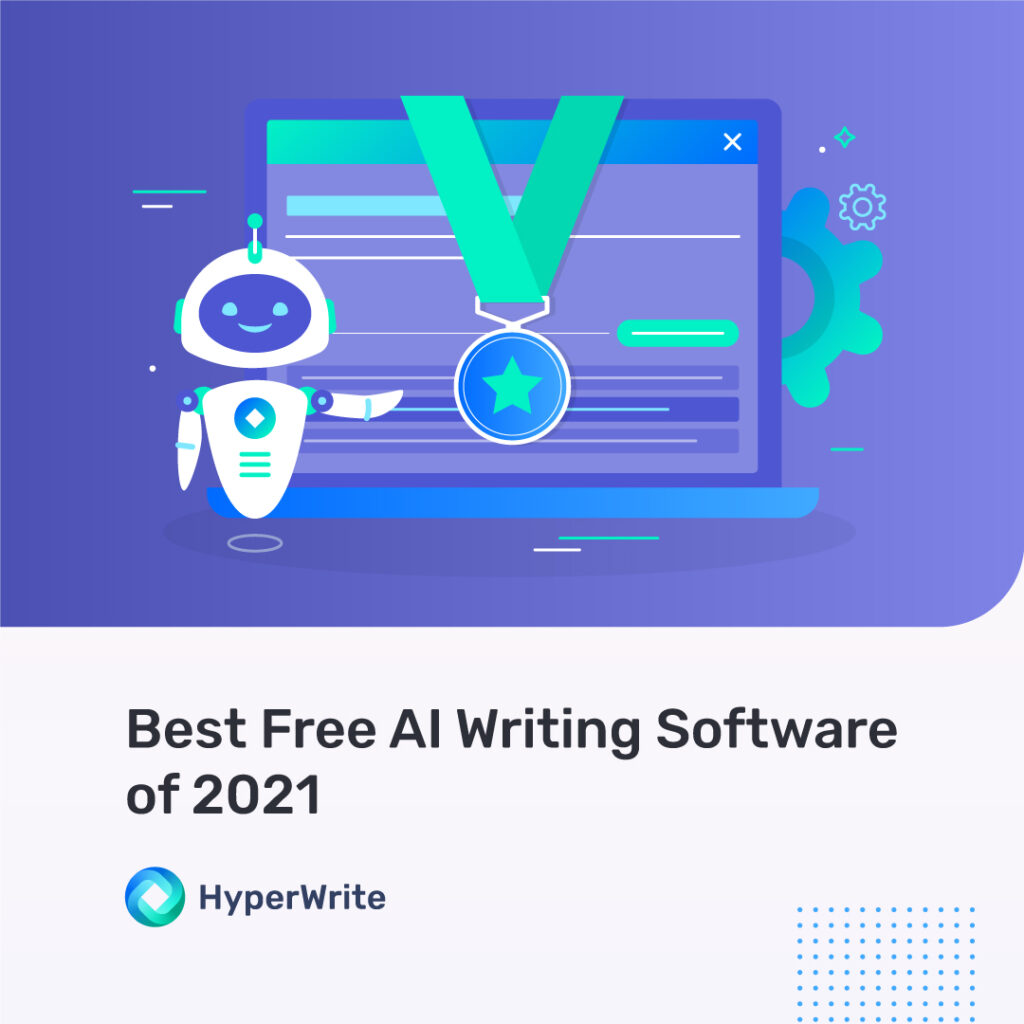 Why You Need AI Writing Software
As a professional content creator, you know just how much time and effort it takes to produce quality content that really engages your audience.
Whether you're creating blog posts, articles, or even engaging with your audience through social media, it can be a painstaking process to create content that not only informs but also speaks to the hearts of your readers.
The average amount of time spent on creating a single piece of content can take anywhere between one and six hours, and if you're trying to turn out content on a weekly basis, that can really add up.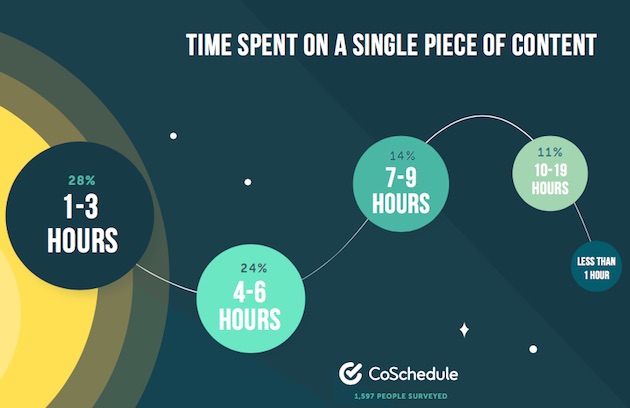 Source: MarketingProfs
That's where AI writing software comes in.
AI writing tools can be used in every step of the content creation process – from content ideation and research to final edits.
This can help you significantly boost your overall productivity and save you a ton of time and energy. In fact, research shows that with the help of AI, businesses can create 6.2 billion hours of worker productivity!
Of course, AI writing tools cannot replace your talents as a creator.
However, they can be used to:
Help you bust through writer's block
Help you create engaging content
Help you find the perfect keyword
Help you find the perfect tone
Help you create content faster and more efficiently
Help you create optimized content for specific platforms
When combined with your creative genius, the benefits of AI writing software are endless.
3 Free AI Writing Software for Your Writing Needs
There are so many tools available to help you get your content done.
However, we understand that it's not always in the budget to pay for the trending tools on the market. But that doesn't mean you are out of luck!
There are dozens of amazing free AI writing software available to help you streamline and optimize your content creation process.
So, without further ado, here are three of our favorite free AI writing software tools that can help you improve your content creation process.
1. Content Ideation/Research – KeywordTool.oi
The first tool we want to highlight is an essential tool for any content creator: KeywordTool.io.

Source: KeywordTool.io
While it's not exactly an AI writing software, it is an AI-powered SEO research tool that can help you discover the perfect keywords to target in your content.
This free AI software is simple and easy to use, and while it doesn't give you all the detailed information that a program such as Semrush might, it does provide you with relevant keyword options worth experimenting with.
All you have to do is enter your keyword idea into the search box, and the software pulls up a list of relevant keyword suggestions, questions, and unique keyword prepositions.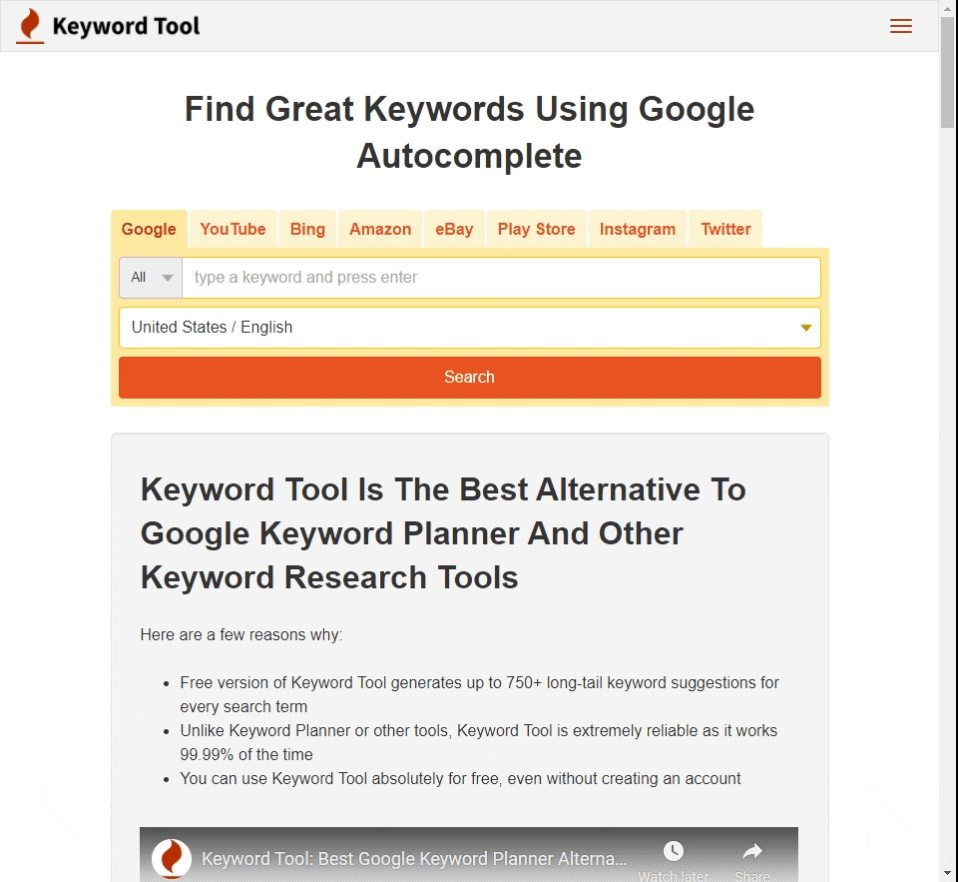 So how does this tool work?
KeywordTool.io utilizes Google Autocomplete to help generate dozens of relevant long-tail keywords based on factors such as how often they're searched for, how many people search for them, and how competitive they are.
This can help you create content optimized for specific platforms, help you find the perfect keyword, and help you create content that your audience wants to read.
2. AI Writing – HyperWrite
Once you've found the perfect keyword, it's time to start writing!
When it comes to your writing process, there is no one-size-fits-all solution, which is why many AI writing software providers utilize complicated, bloated systems that are difficult to use.
However, HyperWrite is different.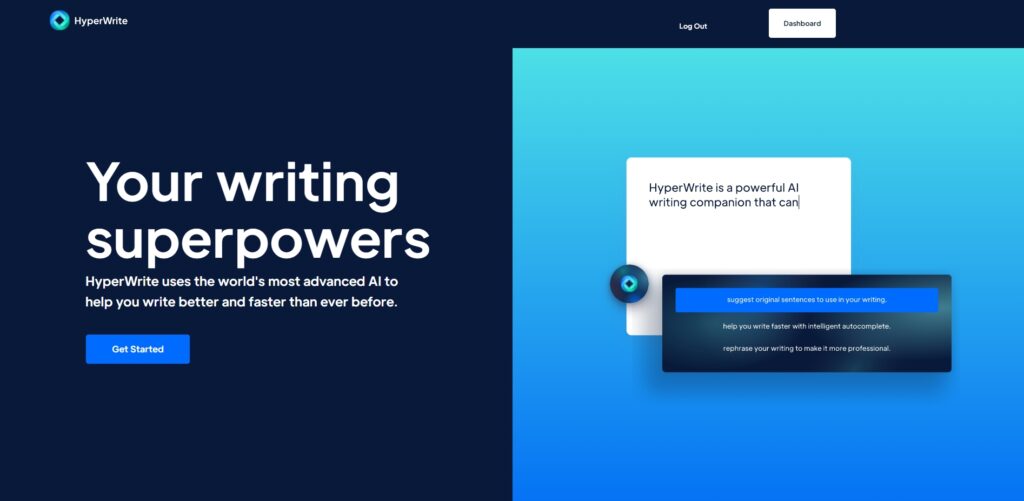 HyperWrite is a simple, easy-to-use AI writing software that allows you to create unique, engaging content with ease.
This free AI tool is a streamlined approach to content creation, and it's perfect for creating content in short bursts while maintaining the highest quality.
HyperWrite utilizes a unique AI algorithm that allows you to type and write your content in the same application. By giving the program a little information about your writing style and topics you wish to cover, you can generate a great deal of unique content in a matter of minutes.
Thanks to Athena, HyperWrite's AI generator, you can create a variety of content that is sure to be unique and engaging – including blog posts, articles, web copy, and even eBooks.
3. Editing Software – Grammarly
Of course, no AI writing software would be complete without an editor to polish your content and make sure it's error-free and grammatically correct.
Grammarly is a popular choice for many writers due to its unique AI-powered algorithm.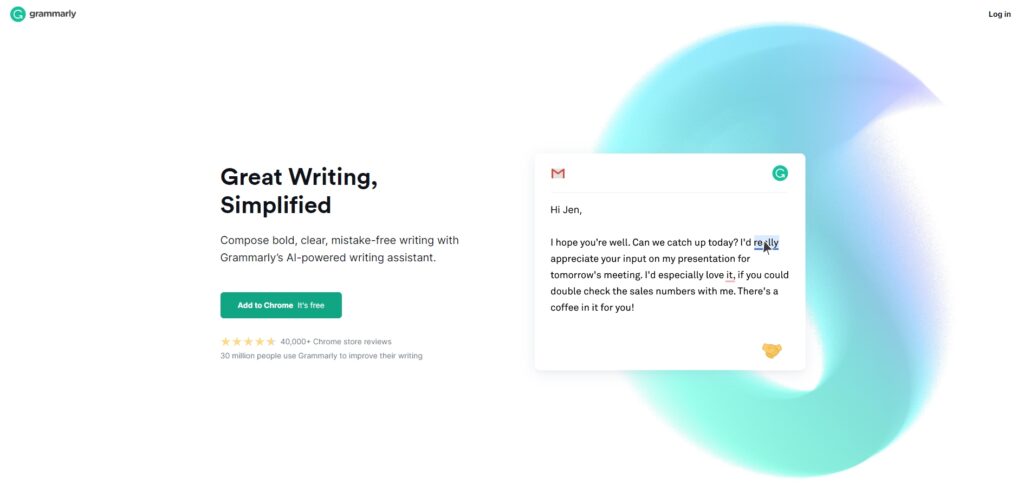 This tool is a robust grammar and spell checker that can help you find errors in your content and even provide suggestions for improving your writing in real-time.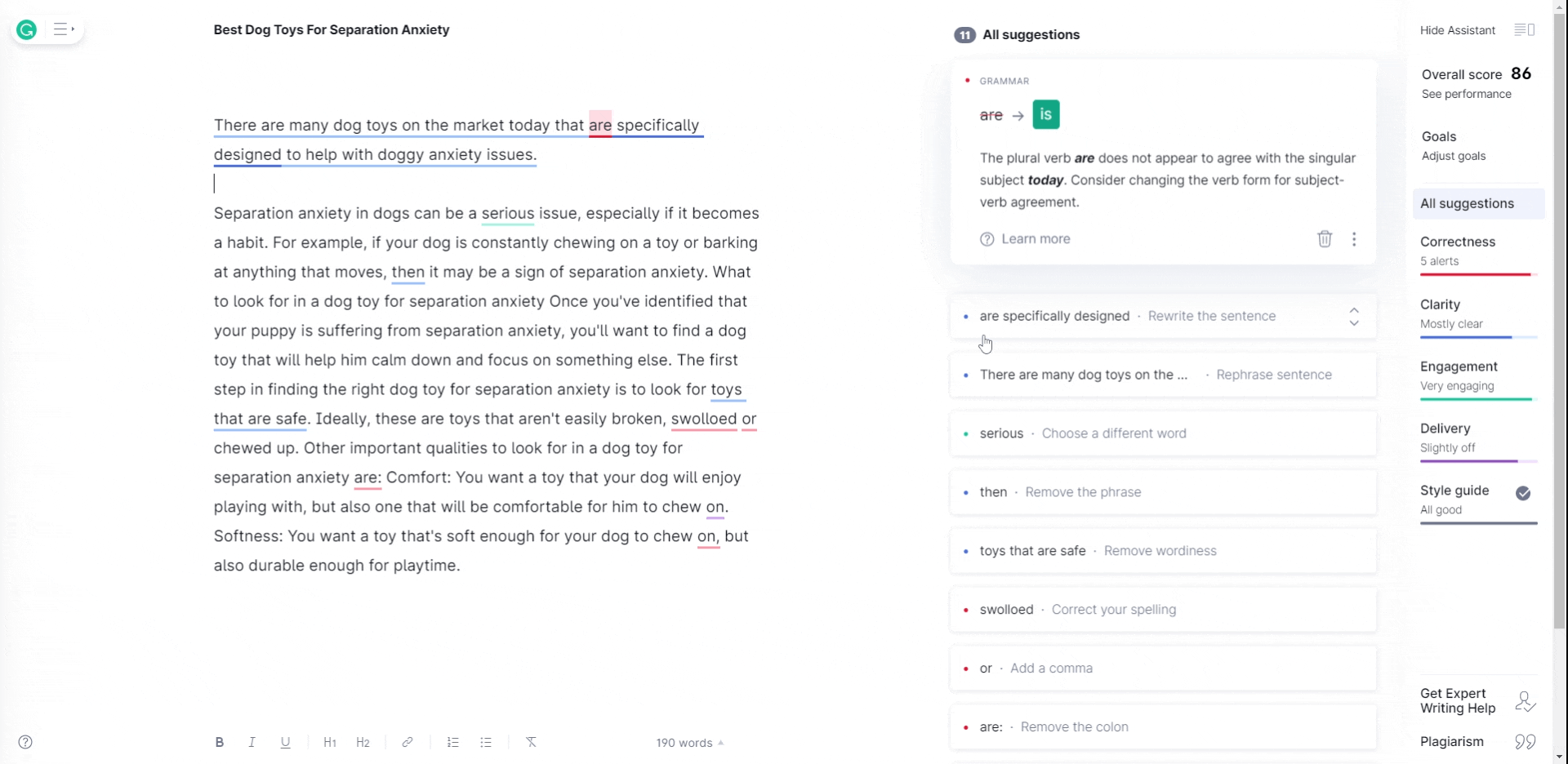 That means this free AI writing software can catch grammar, spelling, tone, and punctuation problems as you write and even offer suggestions for how to fix them.
Of course, if you want to take advantage of the full power of this AI writing software, you can upgrade to Grammarly Premium, which offers the same functionality, but adds completely new features such as the ability to create custom dictionaries and even helps point out overused words and non-inclusive language.
How HyperWrite Can Help You Through Your Entire Writing Process
HyperWrite is a tool that will help you capture the essence of your ideas and then help you turn those ideas into high-quality content. It's a unique AI writing software designed to help you create content in a matter of minutes, without the need to move between multiple apps.
HyperWrite is designed to help you create content on various platforms, and the AI writing software is truly a one-stop shop for your writing needs.
Don't believe us? Here are a few ways HyperWrite can help you through your entire writing process:
Idea Creation
Say you have a keyword or keyword phrase in mind, but you aren't quite sure what spin you want to take on it for your next piece of content – HyperWrite can help!
When you open a new document, all you need to do is go into the document settings and enter some basic information to help guide Athena in her writing process.
This can include anything from a few keywords to a general outline of your desired idea.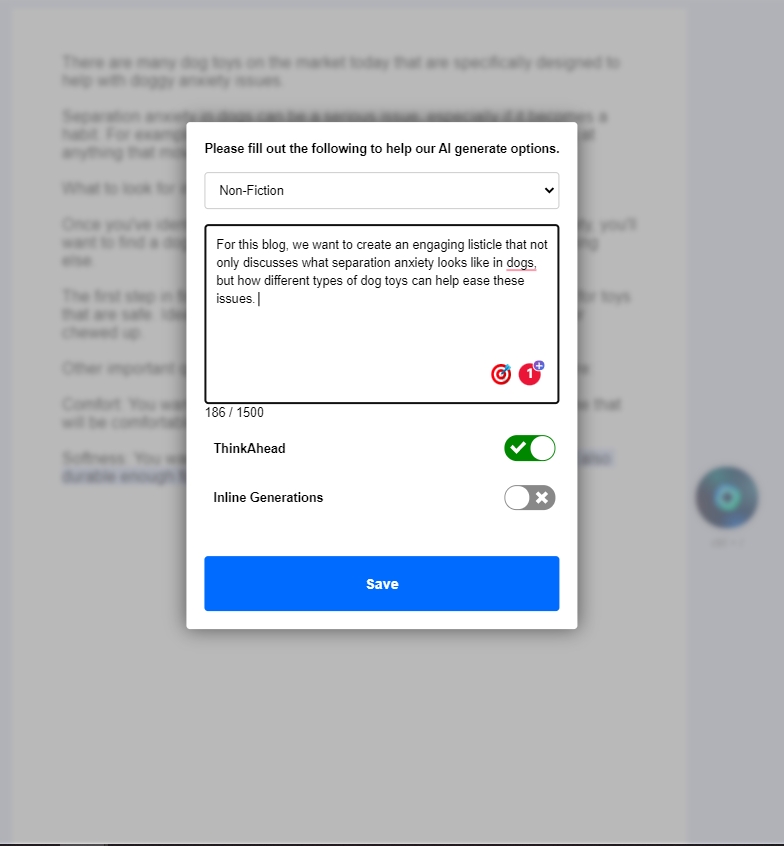 Once you've entered your information, Athena will start writing for you!
While it's Athena's nature to start writing in paragraph formatting, if you're looking for a list of ideas, all you have to do is adjust some of the outputs to help Athena better understand what type of outputs you desire.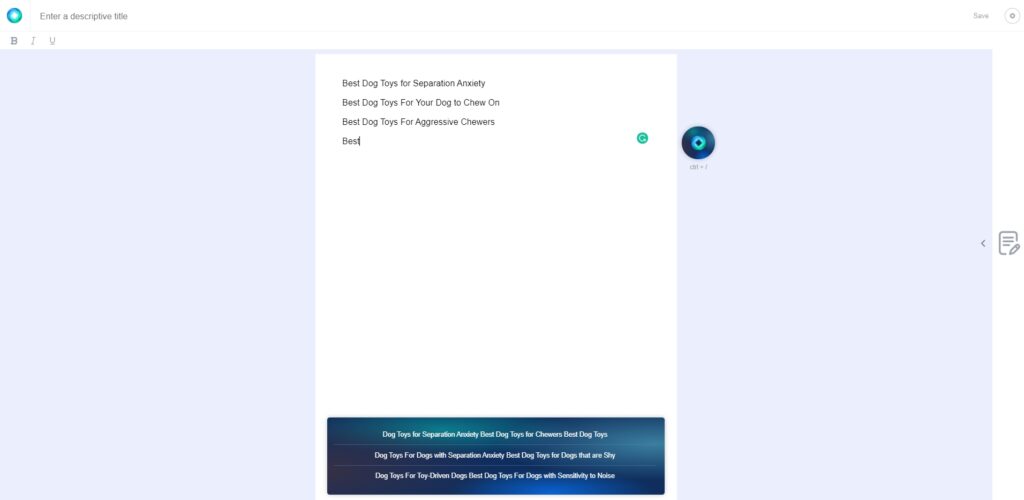 Predictive Writing
Once you have your ideas ready to go, it's time to hit the page running.
HyperWrite relies on GPT-3 machine learning. GPT-3 is a new, natural network AI algorithm designed to create more human-like content, which means it can create content that reads more naturally.
Once you get started with HyperWrite, you can begin typing and watch as the AI software begins generating predictive text based on the information you've entered into the input form and any information you've already entered into the document itself.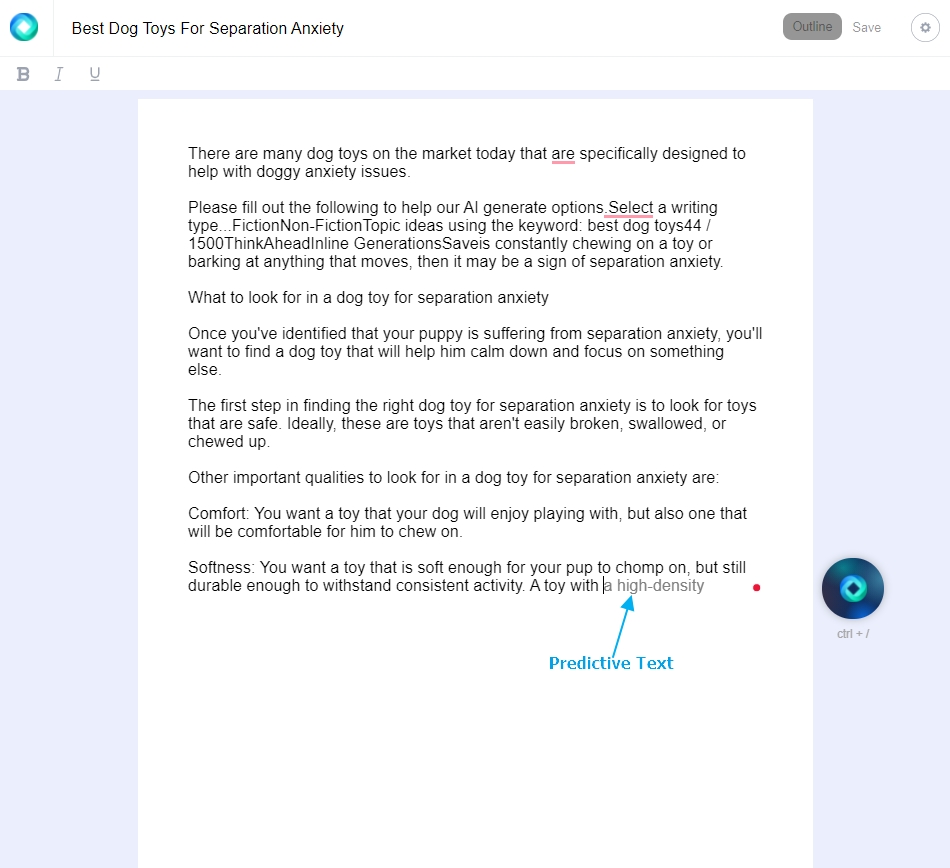 Grammarly Compatible
Finally, once you've finished writing, we recommend checking your spelling and grammar with Grammarly.
This free AI writing software is compatible with our software, and it can help you find errors in your content as you type. For those using Google Chrome, you simply need to download the Grammarly Chrome extension.
After you've logged into your account, you'll be able to use Grammarly with the HyperWrite platform by simply clicking on the small + button located at the end of the document. Once you do, Grammarly's editing menu will appear, and you can start making your edits!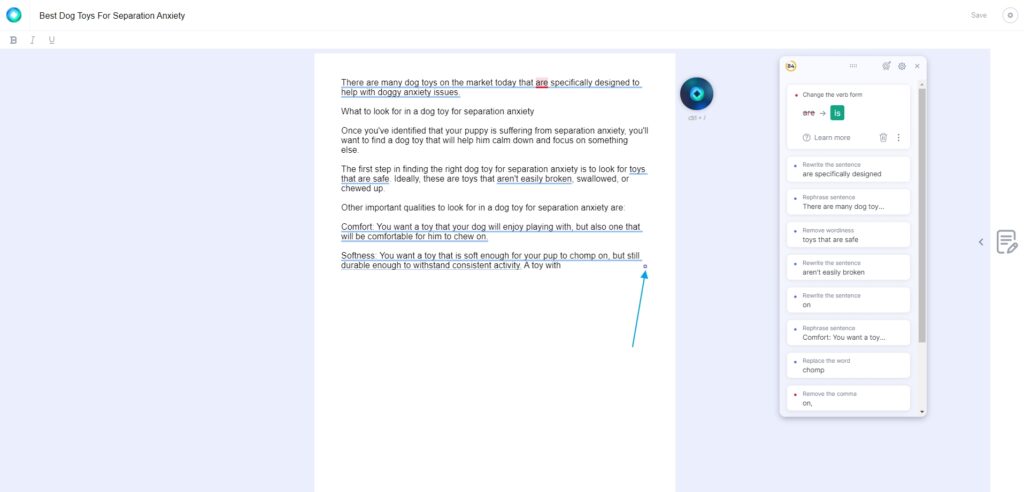 Let HyperWrite Help You Improve Your Writing!
Here at HyperWrite, we understand that you don't need a complicated AI writing software to create high-quality content.
That's why we designed HyperWrite to be a simple, easy-to-use AI writing tool that compliments your writing talents. By utilizing the power of AI, HyperWrite can help you create unique, engaging content in a matter of minutes.
With the free HyperWrite plan, you get access to unlimited documents/drafts with 1500 generations per month. However, if you fall in love with the software, you can upgrade to the premium software for only $35/month! This gives you unlimited documents and an unlimited number of generations, and access to the ThinkAhead feature!
Are you ready to take your writing to the next level with the best free AI writing software? Then start your free trial of HyperWrite today!